Collagen powders, now days seems like people`s favorite. From smoothies, coffee to detox drinks, people are now started adding collagen, due to its health and beauty benefits. Collagen helps the skin in getting lost elasticity and glow, preventing wrinkles, and supporting bone and joint health.
You must have noticed that collagen comes in different variations. Now the deal is knowing- Do you need collagen supplements, and if you do, what kind is right for you?
When you see that your collagen is hydrolyzed – What does it mean ?- Don`t worry it's not as complex as it sounds. Hydrolyzed collagen is simply a version of collagen that is easier for our bodies to process. Read on to learn more about hydrolyzed collagen and all its amazing health benefits.
What is Hydrolyzed Collagen?
Collagen peptides or hydrolyzed collagen simply means collagen that has gone through a process called hydrolysis. Typical collagen supplements are made from animal bones and skin, which is difficult for us to digest in that form. That`s why collagen protein's amino acids are broken down into tiny particles through hydrolysis in order to make it easy for absorption and digestion much faster than those collagen that are not already broken down. This simply means, when you can nutrients are digested quickly the body is also able to absorb them quickly, which means better results and quick improvement in your skin health!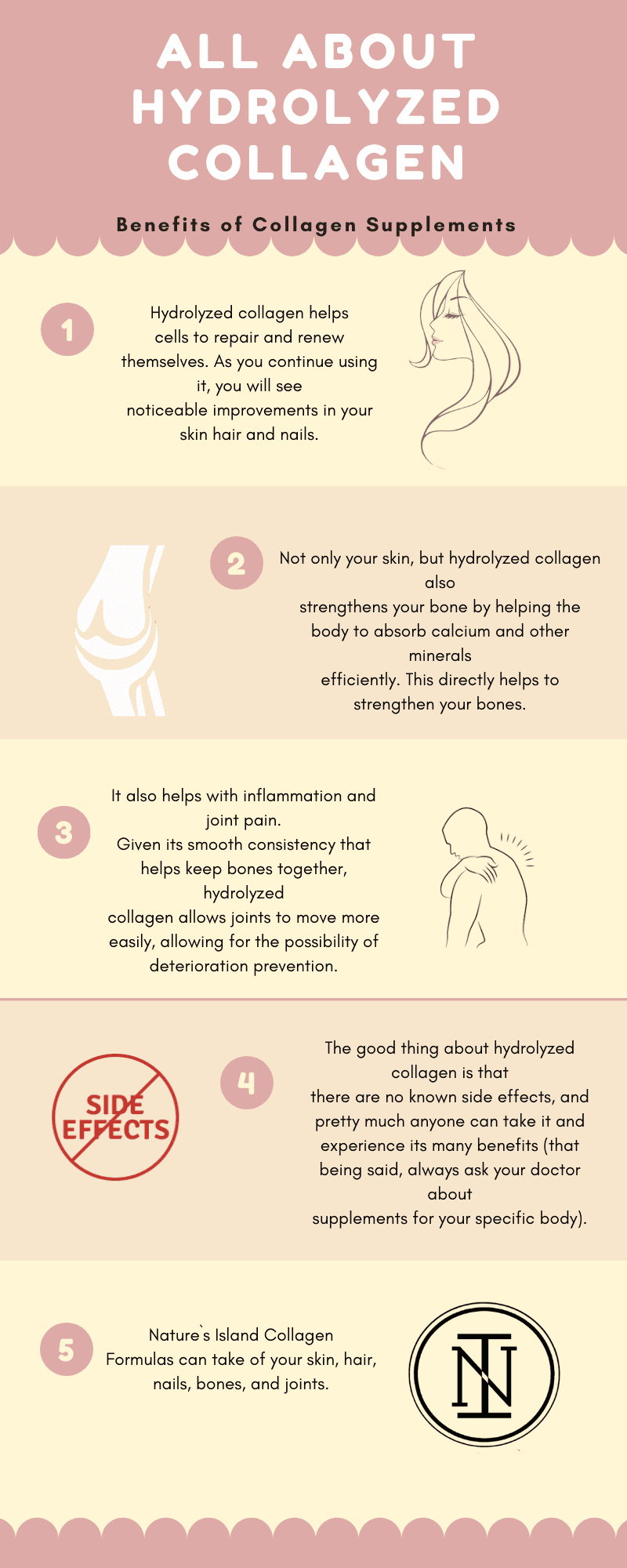 What are the benefits of Hydrolyzed Collagen?
Benefits start from head to toe: glowing skin, healthy hair, strong nails, and bones & healthy joints. Collagen production in our body slows down, as we age, that's why replenishing collagen levels becomes essential. Collagen not only has the ability to repair the damage that has already been done but also reduces common signs of aging such as fine lines and wrinkles.
Whether your skin is bad, neutral, or good, collagen supplements will definitively benefit you in one way or another.
Besides having the same overall benefits of collagen, Hydrolyzed collagen is often superior in quality and is easy to absorb and digest.
Collagen is such an important supplement as it strengthens our skin, nourishes hairs, helps in keeping the bones strong, and relieving joint pain and inflammation. In short, it is the most abundant protein in our body.
Firstly – When its all beauty, hydrolyzed collagen helps cells to repair and renew themselves. As you continue using it, you will see noticeable improvements in your skin hair and nails.
Secondly – Not only your skin, but hydrolyzed collagen also strengthens your bone by helping the body to absorb calcium and other minerals efficiently. This directly helps to strengthen your bones.
Third Benefit– It also helps with inflammation and joint pain. Given its smooth consistency that helps keep bones together, hydrolyzed collagen allows joints to move more easily, allowing for the possibility of deterioration prevention.
Last but not the least -The good thing about hydrolyzed collagen is that there are no known side effects, and pretty much anyone can take it and experience its many benefits (that being said, always ask your doctor about supplements for your specific body).
Types of Hydrolyzed Collagen supplements are there and how to take them?
Hydrolyzed collagen comes in the form of collagen powder, or it's encapsulated. Gummies and liquid collagen shots are two other dosage forms of collagen. The powder supplements are typically unflavored and odorless. Collagen supplements are derived from animals, as it is not possible to extract collagen from plants, so veg options available.
Hydrolyzed collagen can come in bovine, marine, or porcine varieties, with marine collagen being the highest quality of collagen.
So choose collagen supplements wisely. It`s better to go with a clinically studied collagen. Collagen Powder can be mixed into cold water or hot water, smoothies, and juices.
If you choose to go with gummies or liquid collagen shots, be aware that there are likely additives and sugar that can deter the effects of the collagen. That`s why it`s better to go with collagen that is sugar & fat-free.
Finding collagen that works for your body is easy, Nature`s Island offers collagen solutions that fit all when it comes to beauty, health, and wellness.
Nature`s Island hydrolyzed marine collagen is sugar-free, contains no trans fat, high on proteins, and low on calories. On top of that, the collagen is clinically proven to show results. 
All you need is one scoop daily, (serving of 1o grams of hydrolyzed marine collagen) to help your skin to glow and keep your body strong and healthy. From berry blast to mojito to orange, the flavors are not only delicious but also infused with herbs and antioxidants.
Why not choose a collagen supplement that does it all?
Nature`s Island Collagen Formulas can take of your skin, hair, nails, bones, and joints. One collagen many benefits!!